Dubai International Art Awards 2018 : Five Palms Hotel Dubai
Global art awards / Dubai 2018
Thank You to your Highness Sheikh Saeed Al Nahyan and International Global Art Awards for this heavy Crystal with my name on it ♥️ it's an honor taking this Award home with me.
COMPLEX MAGAZINE INTERVIEW
Yelena York Talks Feminism, Independence & Being Unapologetic
The Art of Travel Auction 2017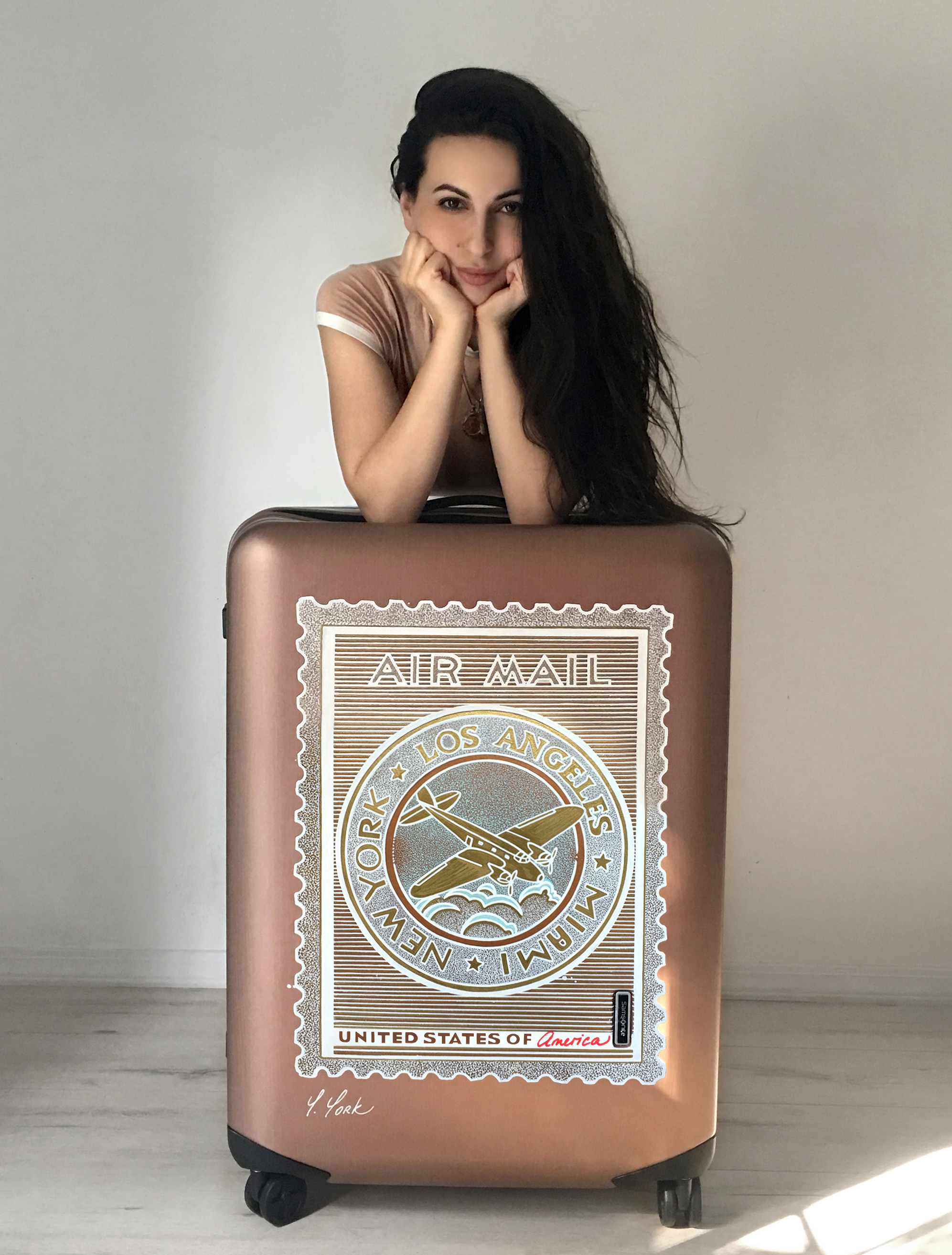 West Edge 2017 kicked off on Thursday, October 19 with an Opening Night bash to benefit Los Angeles Ronald McDonald House.
COPIC sponsored artist Yelena York
Enjoy interview with professional artist and avid Copic user, Yelena York!
billboard magazine/ YELENA YORK on the P.Diddys DeLéon 100 Honorees List
BILLBOARD DeLéon 100 LIST OF HONOREES
The DeLéon 100 was assembled to celebrate the culture-creators who aren't afraid to push the envelope, but the list is more about where they're going than where they've been.
billboard magazine february 2107 issue
Spotlight Print Magazine 2018
The WestEdge 2017 auction features the work of 25 of the most exciting street artists. This time, they have chosen Samsonite luggage as their canvases. And, they are giving you the opportunity to own a one-of-a-kind travel piece. Proceeds of this auction benefit the families of seriously ill children who call Ronald McDonald House home.
Interview With Superstar Agenda Mag
YELENA YORK (pointillist)
"when it comes to my art, i would never change anything for you"
Oxford International Art Fair - AWARDS 2015
GLOBAL ART AGENCY AWARDS CEREMONY
Giving Artist & Gallery the recognition that they deserve and acknowledgement for their hard work. The Awards are judged by Curators & Guest Judges. Collectively they judge the participants of the Oxford International Art Fair.
This Month's Featured
Success Beyond Beauty
yelena york
Soze x Yelena York CAMP2E in Los Angeles
CAMP2e day art camp with featured artist Yelena York in Los Angeles on August 7th Sunday 2016. Thank you to everyone who made it out on such a beautiful Sunday Funday! Thanks to Zoe @blickonbeverly for all the goodies in the gift bags and art supplies for the kids. Ben and Leyla from @heartsrevolution for surprising the kids I their ice cream truck. Leila, Yelena, Nancy, and all the kids, we had a blast and will do our next CAMP2E soon Artist Yelena York featured artist for CAMP2E non-profit kids day camp for Inner City Kids in the Dtla Arts District
STUIDO VISIT BOOK VOL.33 SELECTED ARTISTS
YELENA YORK QUEEN AND KING CHESS POINTILLISM WORKS
J'Adore Les Fleurs TV Commercial featuring yelena york
PLAYGROUND X MAGAZINE interview
AMAZING ARTIST/PAINTER
YELENA YORK TALKS "ART"
Servicejoy Stories: Interview with Yelena York Tonoyan
Servicejoy stories: interview with yelena york